In this small tutorial you will learn how to repair corrupted GoPro video files.
Often, a corrupted GoPro video file is due to an unexpected shutting down:
– Maybe you crashed your camera during the recording process,
– Or you ran out of battery,
– You used a low-quality SD card (some low-quality sdcard can't handle the high-volume of data needed to be written and the camera froze),
– It's possible also that you forgot to stop the recording and took the SD card out of the camera.
As you are recording, the GoPro camera needs to index the video (write and update the metadata) so that it can be read, decoded and rendered. If the recording hasn't been stopped properly, that index is never created/updated and all you got is a corrupt mp4 file.
This is where at Fix.Video, we can help you.
Methods explained here to repair corrupted GoPro mp4 video files are compatible with any version of the GoPro action camera. We can recover video shot in H.264 and also HEVC (also known as H.265)
GoPro Hero, Hero+, Hero 2
Hero 3, Hero 3+
Hero Session
GoPro Hero 4, 5, 6, 7, 8 in any version – Black, White, Session
But before trying to repair your video file, make sure your file is actually corrupted.
Determine if your video file is really damaged:
1- You can first try to play it with VLC media player. VLC is a powerful media player able to render all kinds of media.
2- If VLC can't play your file. You can try to re-encode your video file to make sure your file needs to be repaired.
Your file is definitely corrupted? go ahead
# Method 1 to repair corrupted GoPro mp4 file
Use the SOS GoPro built-in functionnality.

GoPro has a built-in failsafe functionnality able to correct these corrupt files without index. If you are experiencing problems opening video files recorded with your GoPro on your computer, put your SD card into the GoPro camera and power it up (Remember that you must use the same camera used to record your movies)
If the GoPro detects a corrupt video file, it will display on the screen a bicycle icon, a bandage icon, or simply "REPAIRING FILE". Pressing any button will start automatically the recovering process.
The GoPro SOS method is the easiest way to recover corrupted GoPro video files, but it doesn't works every time.
Additional advice: If you don't see the repair icon on the GoPro small screen: Turn the GoPro Off, remove the battery and the SD card. Then, replace only the battery and turn the GoPro on, try to insert the SD card while the camera is running.
the SOS GoPro built-in functionnality failed? What can you do next ?
# Method 2
Use Fix.Video – The professional video recovery tool
It's easy to repair GoPro video files with Fix.Video. We can recover video files from any GoPro's model – H.264 or HEVC, we can repair either way.
Step 1. Go to https://fix.video
Step 2. Click on the big 'Plus' button to select your damaged GoPro video file. It is advised to first copy your broken file from your sdcard to your computer.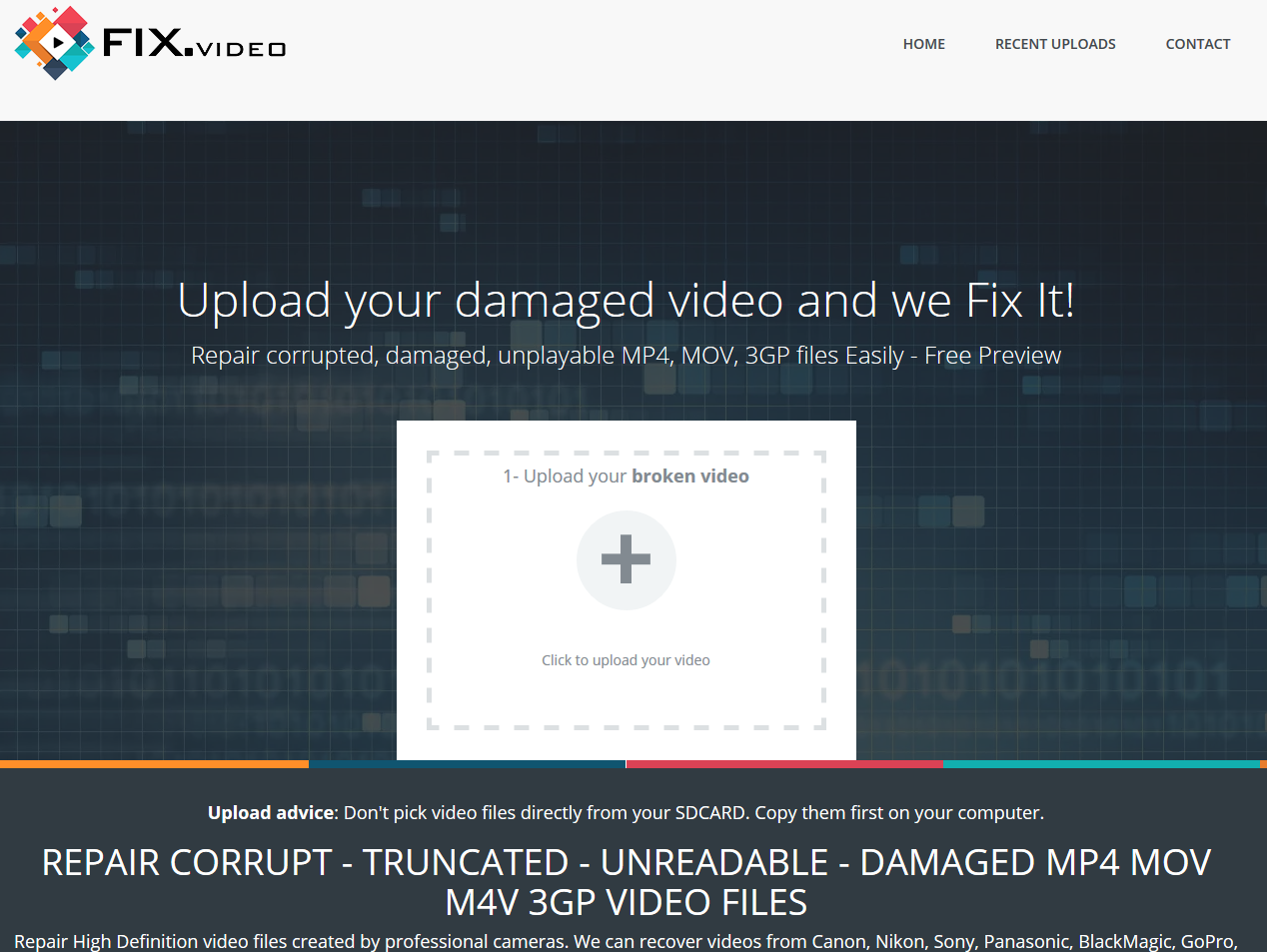 Step 3. Wait until the file upload has finished.
Step 4. Fix.Video will automatically scan your damaged file and will try to repair it using the appropriate GoPro preset.

Step 5. You will see a small preview of your recovered video and 4 screenshots.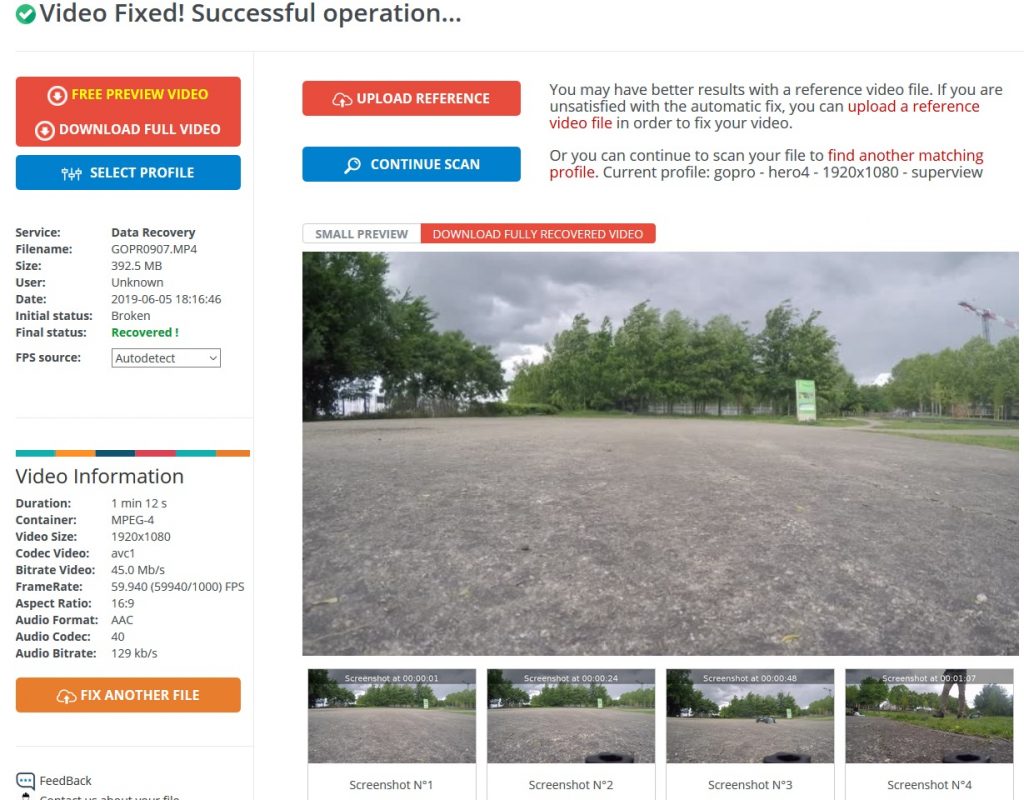 If you see artifacts or your video seems jumpy, read the next section
---
Recover GoPro video files deleted from SD cards
You've accidentally deleted a video or quick-formatted the sdcard? This is what you must do:
1- Don't record anymore videos with this Memory Card. You must avoid clusters overwrite risks.
2- Create a backup image of the entire card (A RAW and full sector-by-sector copy of the memory card). SDRecovery, our Memory card recovery tool is able to create RAW Backup image files.
3- After that, keep your image file carefully. Now the goal is to try to recover the deleted video(s) from the memory card with our recovery tool: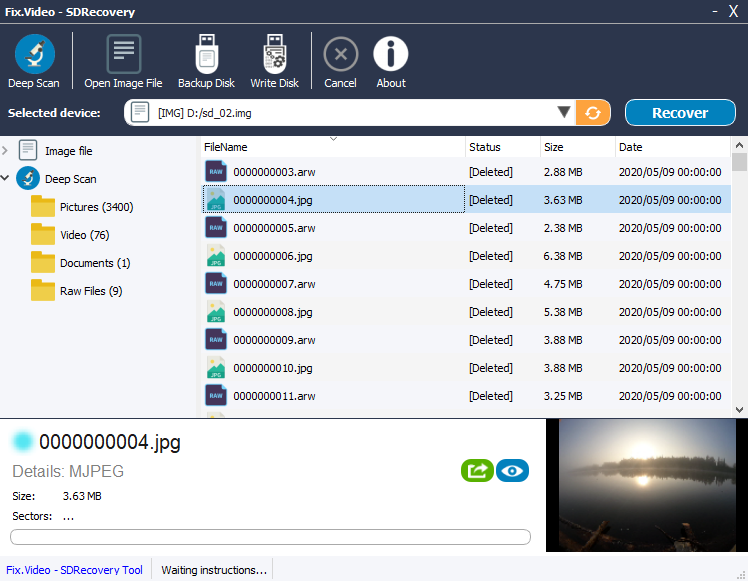 Select the device or the recently created image file, then browse filesystem architecture to see if deleted files are shown in the tree. If not, you must launch a Deep Scan to find all invisible and lost files.

Most of the time, recovered videos will be corrupted, due to fragmentation and or loss of metadata informations. In other words, your recovered files will not be playable. With SDRecovery, you will be able to launch a direct diagnostic on recovered files to automatically detect video settings and preview the content.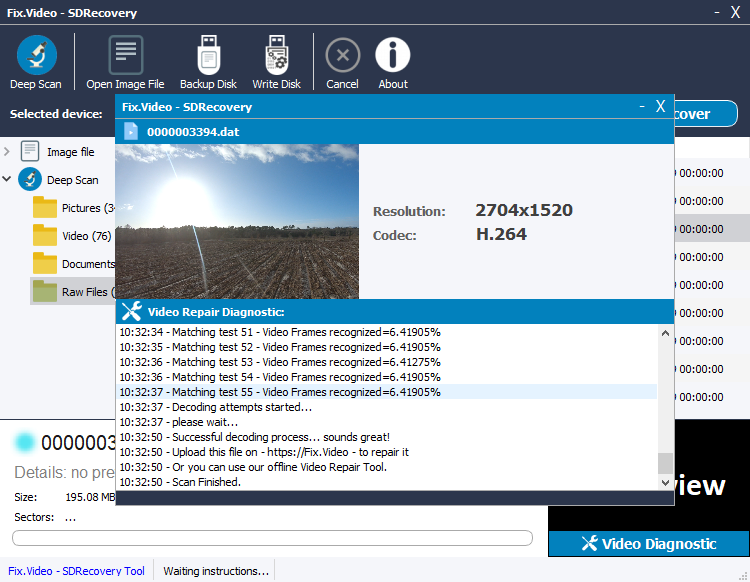 Regarding Fragmentation and broken videos: This is particularly true with GoPro videos. GoPro Writing process produce a lot of fragmentation on the sdcard because it actually records two files simultaneously. The regular full resolution mp4 video file of course, but also a low resolution .lrv file preview file. As a result, these 2 files are "merged" and we have alternatively full resolution video packets and small resolution packets (and audio duplication).

Here at Fix.Video we developed an automatic functionnality to filter out these small resolution packets to improve deleted/formated GoPro video files recovery.
In conclusion, repair GoPro video files is now an easy tak with Fix.Video
Feel free to contact us if you need help to recover your GoPro video files.