Summary: This article introduce the best way to repair MP4 MOV video files. This Tutorial explains how to use Fix.Video, the online mp4/mov repair tool.
So, you recorded a video file and now your file is not playable?
All you got is an error 0xc00d36c4 or -2048 when you try to open your file with your favorite player.
You want to repair your MP4, Mov files easily? This is why you are here. Let's see together how it can be done.
Method #1: Using VLC
You can see pages in the google top results, promoting VLC to repair your MP4/MOV video files.
Maybe it's worth a try, but chances you can repair your corrupted MP4/MOV files with VLC is near the absolute Zero. All you risk is wasting time and energy.
These pages are mostly there to sell data recovery products (you will recognize them)
Method #2: Re-encode your file
Determine if your video file is really damaged:
1- You can first try to play it with VLC media player. VLC is a powerful media player able to render all kinds of media.
2- If VLC can't play your file. You can try to re-encode your video file. Here at Fix.video, we provide a free tool specifically built for this task. You will be able to re-encode your video files keeping format and quality settings of the original file.
You can download our Free Video Re-Encoder here:
If VLC can not render your video and you can't re-encode it with our tool, you can assume that your file is damaged/corrupted/truncated and needs to be repaired by professional tools.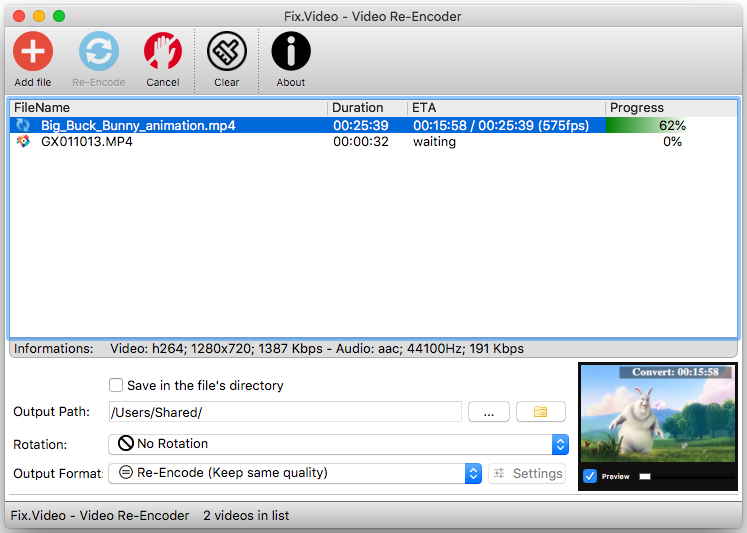 Method #3: Using Fix.Video
These few steps explain how to repair MP4 MOV video files using fix.video
Step 1. Go to https://fix.video
Step 2. Click on the big 'Plus' button to select your damaged MP4/mov video file. Allowed file type are 'mp4', 'mov', 'm4v', '3gp', 'dat', 'mxf'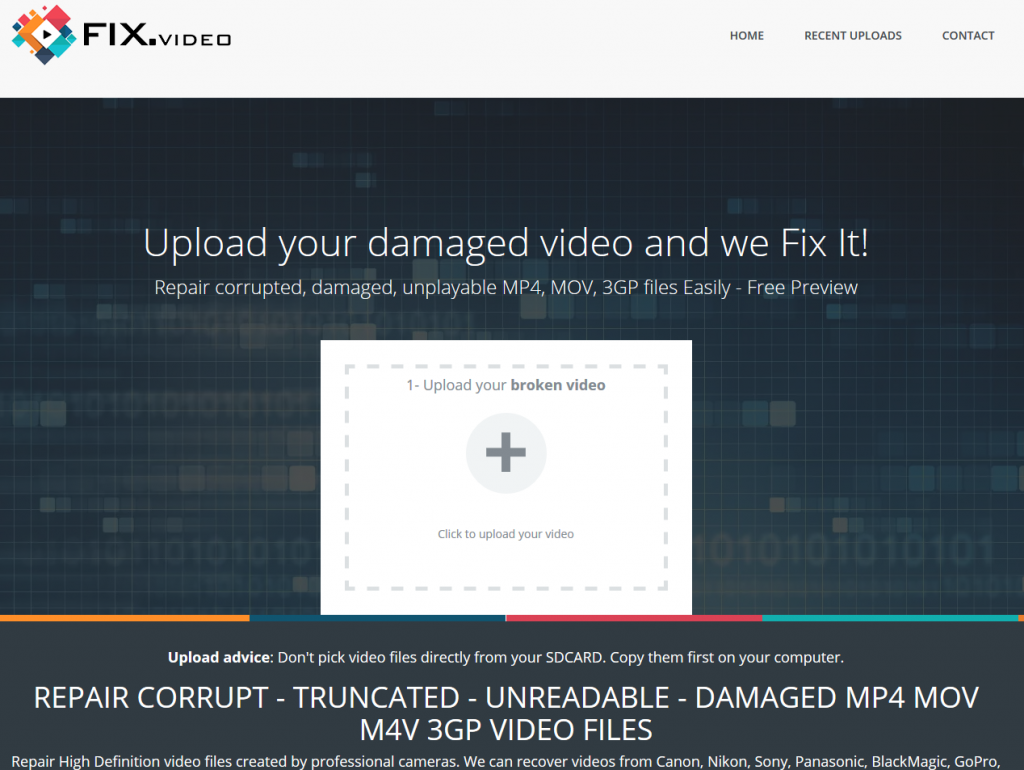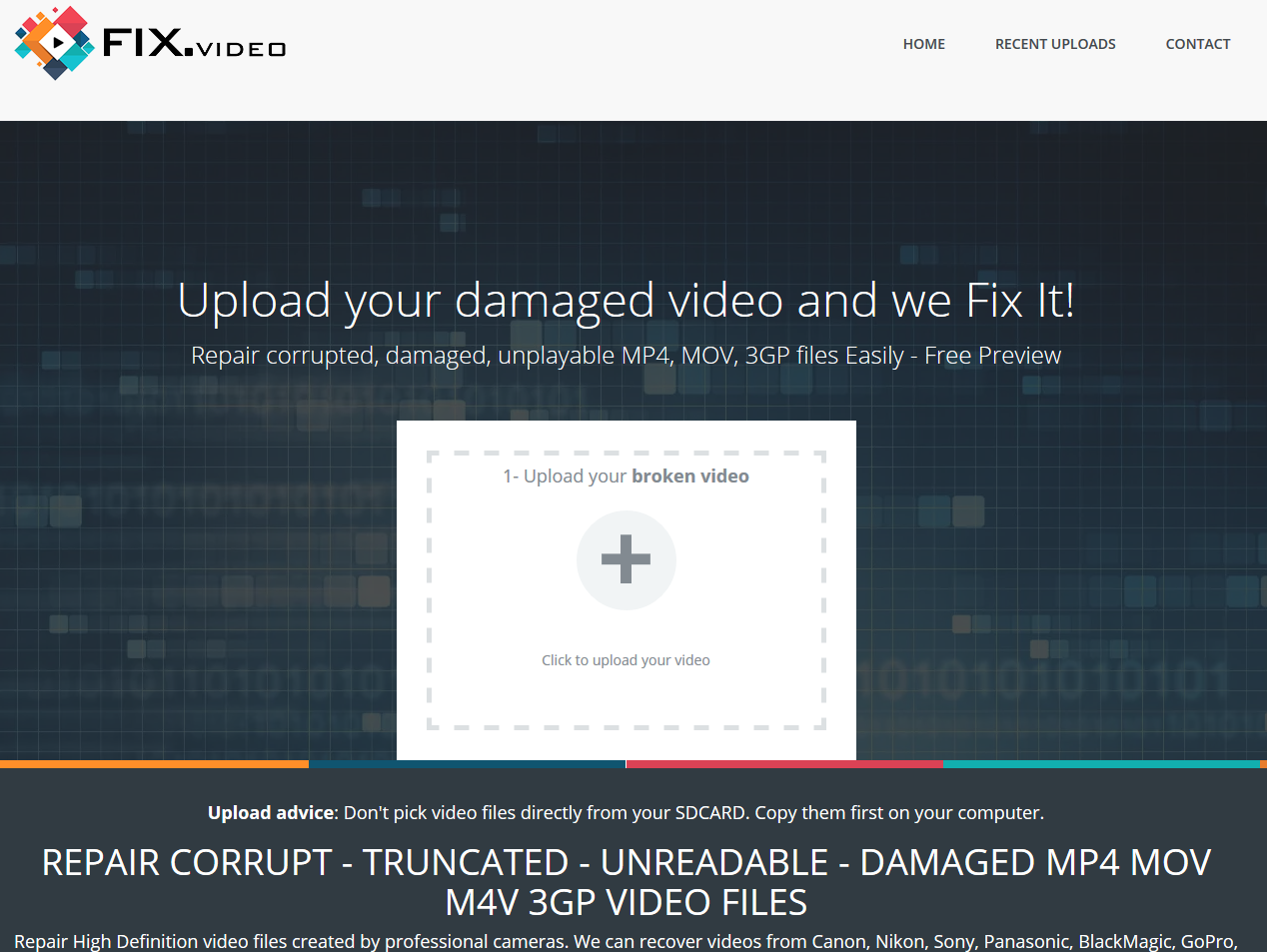 Step 3. Wait during the file upload process. You will see the progression and the estimated necessary remaining time. You will be able to Pause/Resume the upload at your convenience, and once the upload is finished, a new page will automatically open, showing you the repair process.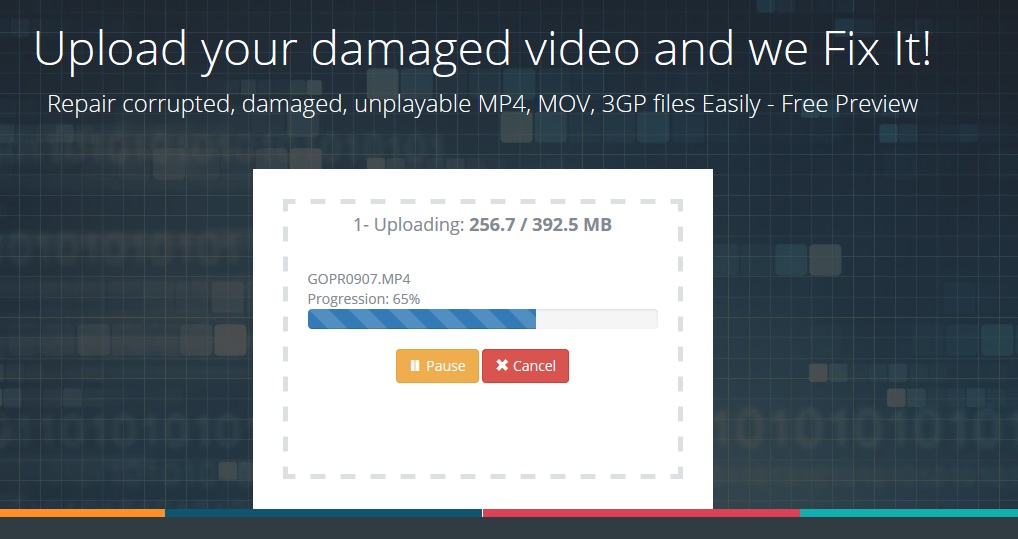 Step 4. Fix.Video will scan your damaged file and will try to repair it using common and popular video presets (Canon, Sony, Panasonic, Nikon, Dji, GoPro, Android, Iphone …). If a matching preset is discovered, your file will be recovered and playable again.

Step 5. You will see a small preview of your recovered video and 4 screenshots.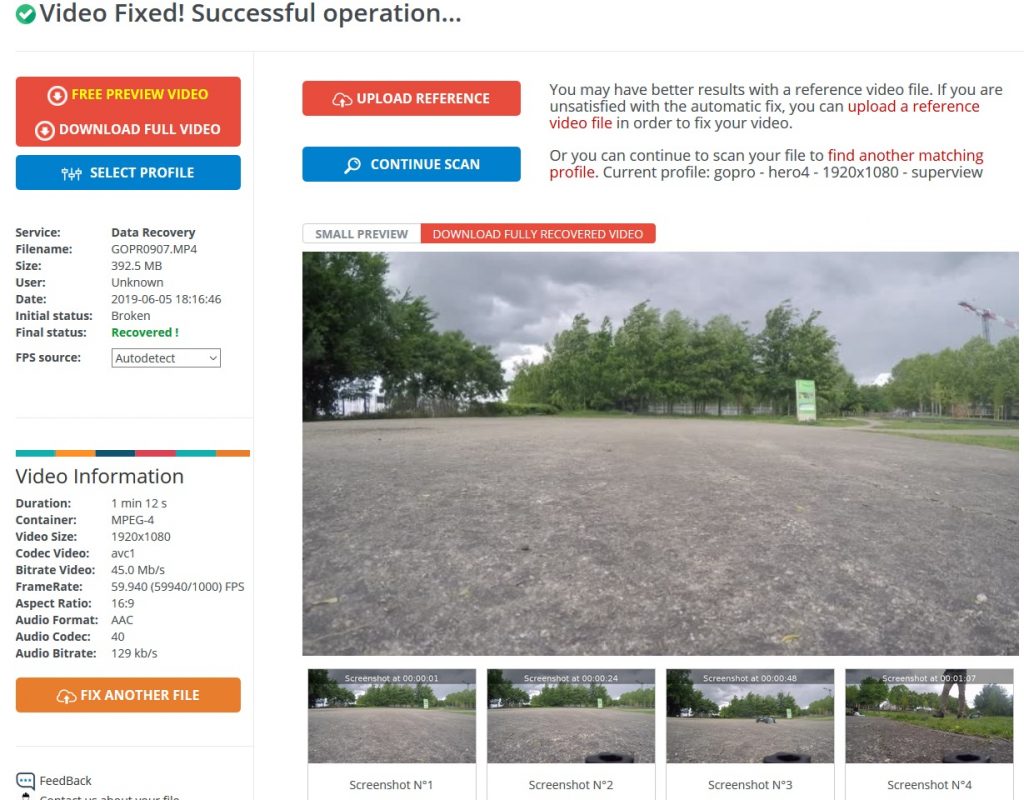 You will be able also to upload a video reference file in order to repair your damaged video. Please also note that the reference file must be coming from the same device with same settings (Resolution, fps, audio). Don't forget that we are always here to answer any question and to help you recover your files.